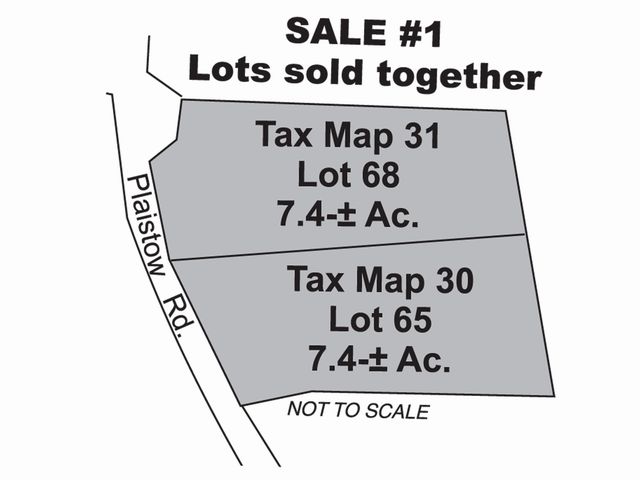 Auction Type: Residential
ID#: 2017-281
Date: 12/02/2017 09:00 AM
Address: 145 Main Street, Plaistow, NH
County:
Style/Quick Information: (13) Tax-Deeded Properties in Plaistow, NH
(9) Properties will be offered at ABSOLUTE AUCTION
Living Area:
Bedrooms:
Bathrooms:
Full Description: MOSTLY VACANT PARCELS OF LAND 8 Zoned Residential / 5 Zoned Commercial • Sale to be held at Plaistow Town Hall, 145 Main Street, Plaistow, NH Registration begins at 8:00 AM on day of sale. We have been retained by the Town of Plaistow to sell at Public Auction these (13) parcels of land which were acquired by Tax Collector's Deed. This auction includes Commercial land on Route 125 and nice wooded lots in Residential neighborhoods. These valuable properties have a total assessed value of $1,637,550. Sales 1 through 4 are subject to town confirmation. SALES 1, 2 AND 4 ARE SUBJECT TO TOWN CONFIRMATION. SALES 3 AND 5 THROUGH 12 WILL BE SOLD AT ABSOLUTE AUCTION (NO MINIMUM! NO RESERVE!) 10% Buyer's Premium Payable to Auctioneer Due At Closing TERMS: Deposits by cash, certified check, bank check, or other form of payment acceptable to the Town of Plaistow at time of sale, balance due within 30 days. Conveyance by deed without covenants. Other terms may be announced at time of sale. All information herein is believed but not warranted to be correct. All interested parties are advised to do their own due diligence relative to the buildability/nonbuildability of any lot and all matters they deem relevant.