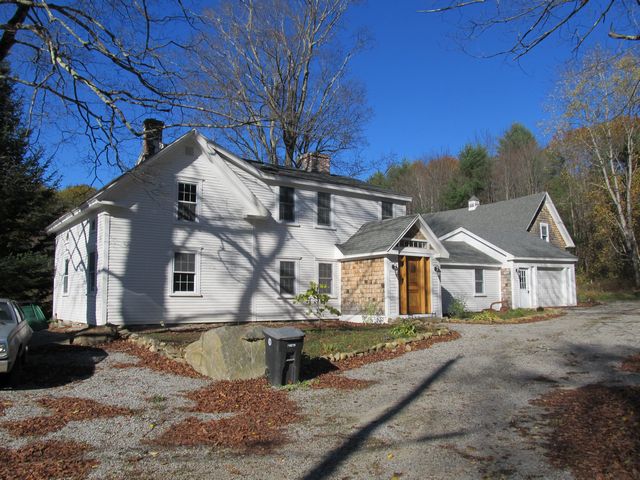 Auction Type: Residential
ID#: 2017-283
Date: 12/12/2017 11:00 AM
Address: 56 Calef Hill Road, Franklin, NH
County: Merrimack
Style/Quick Information: Restored Antique Cape & Building Lot in Country Setting
Lot 2 & 3, 56 Calef Hill Road, Franklin, NH
Living Area:
2,242+/- SF GLA
Full Description: ***To be sold in the entirety *** Property is comprised of (2) abutting lots shown as Lots 2 & 3 on Merrimack County Registry of Deeds Plan #201700011286 • LOT 2 (a/k/a 56 Calef Rd.) is a 1.39± acre lot improved with a c.1804 cape style home having 2,242± SF GLA, 6 RMS, 2 BR & 2 BA • Home features granite countertops, exposed beams, wide pine floors, 2 rear decks,
FHA/oil heat, attached garage, and detached 2-story outbuilding • LOT 3 is a wooded 1.49± acre town-approved building lot
with rustic stone wall along it's 101.3± feet of road frontage • Tax Map 132 Lot 003-00. Assessed value: $226,700. 2016 taxes: $5,720. Mortgage Ref: Merrimack County Registry of Deeds Book 3473, Page 2087. Sale per order of Mortgagee by its Attorneys: Merra & Kanakis, P.C., Nashua, NH; Mark D. Kanakis, Esquire. File Ref: #20,198. Terms: $10,000 deposit by cash, certified check, bank check, or other form of payment acceptable to Mortgagee at time of sale, balance due within 45 days. Other terms may be announced at time of sale. All information herein is believed but not warranted to be correct. The Mortgagee does not warrant the condition or existence of any feature described above.