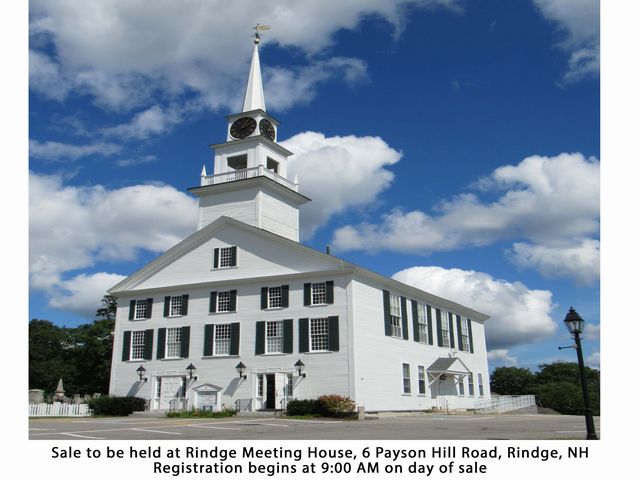 Auction Type: Residential
ID#: 2018-232
Date: 10/06/2018 10:00 AM
Address: 6 Payson Hill Road, Rindge, NH
County:
Style/Quick Information: Sale 1 $120,000
Sale 2 $61,000
Living Area:
Bedrooms:
Bathrooms:
Full Description: ***2 PROPERTIES (1 WITH WATERFRONT LOT!) ***WE HAVE BEEN RETAINED BY THE TOWN OF RINDGE TO SELL AT PUBLIC AUCTION THESE PROPERTIES WHICH WERE ACQUIRED BY TAX COLLECTOR'S DEED Sale to be held at Rindge Meeting House, 6 Payson Hill Road, Rindge, NH. Registration begins at 9:00 AM on day of sale. SALE #1: TAX MAP 2, LOT 9-1-4 265 RAND ROAD Split-entry raised ranch on a 2.04± acre lot • 1-story home built in 2003 offers 1,332± SF GLA, 6 RMS, 3 BR, 2 BA, finished basement, and 2-car under garage • RA, Residential Agricultural Zoning • Assessed value: $174,400. 2017 taxes: $4,742. Directions: From the intersection of Route 202 & Rand Road in Rindge, follow Rand Road westerly for 1.1 miles; home is on the left. SALE #2: The following 2 parcels will be sold in the entirety only: TAX MAP 9, LOT 8, 51 KIMBALL ROAD & TAX MAP 35, LOT 10, KIMBALL ROAD 4± acre lot at the corner of Kimball Road and Bowers Hill Road improved with a 4-BR Contemporary style home in very poor condition and a 0.4± acre lot across the street with water frontage on Pearly Lake • R, Residential zoning • Total assessed value: $188,100. 2017 taxes: $5,114. Directions: From the intersection of Rtes. 119 & 202 in Rindge, follow Rte. 119 west for 1.7 miles. Turn right on Kimball Road for .1 mile; bear right to stay on Kimball Road. Home is first on the left; land is across the street on the right. Preview for Sales 1 & 2: By appointment with Auctioneers and day of sale from 8:30 AM. TERMS: $5,000 deposit for both Sales 1 & 2 by cash, certified check, bank check, or other form of payment acceptable to the Town of Rindge at time of sale; additional deposit to increase total deposit to 10% of bid price due within 5 business days. Balance of purchase price due within 30 days after date of sale. Sales are subject to Town Confirmation. The Town of Rindge reserves the right to reject any and all bids. Conveyance by quit claim deed. Both properties sold "AS IS, WHERE IS" subject to all outstanding liens, if any. Other terms may be announced at time of sale. 7.5% BUYER'S PREMIUM PAYABLE TO AUCTIONEER DUE AT CLOSING. All information herein is believed but not warranted to be correct. All interested parties are advised to do their own due diligence relative to the buildability/non-buildability of any lot and all matters they deem relevant.
Back Taxes* :
N/A
Water Bill* :
N/A
Sewerage Bill* :
N/A
*Lien information has been provided by third parties. We believe this information to be correct but do not warrant its accuracy.