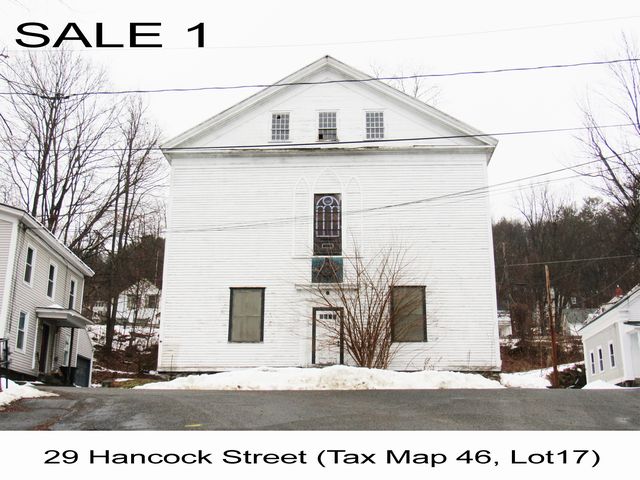 Auction Type: Residential
ID#: 2020-121
Date: 01/25/2020 10:00 AM
Address: 11 Main Street, Hinsdale, NH
County: Cheshire
Style/Quick Information:
(4) Tax Deeded Properties in Hinsdale, NH
Living Area:
Bedrooms:
Bathrooms:
Full Description: UNDEVELOPED WOODED LOTS * COMM/OFFICE BUILDING * LOT W/FOUNDATION * Sale to be held at Hinsdale Town Hall 11 Main Street, Hinsdale, NH (Registration from 9:00 AM) We are pleased to offer for the Town of Hinsdale at PUBLIC AUCTION, these (4) properties which were acquired by Tax Collector's Deed. These properties have a total assessed value of $229,600 and appeal to investors, builders, or abutters! ****SALE # 1: 29 Hancock Street (Tax Map 46, Lot 117) 2-story Comm/Office Building, former church with many original features located on a 0.21± acre lot * Building features 5,180 SF GLA, finished first and second story, hardwood floors, clapboard siding * FHA/gas heat, served by town water and sewer * Assessed value: $88,100. 2019 taxes: $3,002. DEPOSIT: $5,000.****SALE # 2: 401 Chesterfield Road (Tax Map 26, Lot 8/3) Overgrown 5.23± acre building lot with remains from structure fire still on lot * Lot is set back from road, sits up high and is dry * Well & septic required * Assessed value: $36,100. 2019 taxes: $1,230. DEPOSIT: $2,500. ****SALE # 3: Brattleboro Road (Tax Map 15, Lot 5) Wooded 0.15± acre lot located just before #406 Brattleboro Rd. * Lot slopes upward from road w/ a hill at the back of the property line & has an old wooden bait shop on corner of lot * Well & septic required * Assessed value: $68,100. 2019 taxes: $2,320. DEPOSIT: $1,000. **** SALE # 4: 45 Canal Street (Tax Map 50, Lot 33) Vacant 0.2± acre building lot with partial foundation left from fire * Lot is centrally located within walking distance to town center * Town water & sewer available * Assessed value: $37,300. 2019 taxes: $1,271. DEPOSIT: $1,000. Preview: The properties are marked, a drive-by is recommended. 10% BUYER'S PREMIUM PAYABLE TO AUCTIONEER DUE AT CLOSING. TERMS: All deposits by cash, certified check, bank treasurer's check or other payment acceptable to the Town of Hinsdale at time of sale, balance due within 30 days. Sales are subject to Town confirmation. The Town of Hinsdale reserves the right to reject any & all bids. Conveyance by deed without covenants. Property sold "as is, where is" subject to all outstanding liens, if any. Other terms may be announced at time of sale. All information herein is believed but not warranted to be correct. All interested parties are advised to do their own due diligence relative to the buildability/non-buildability of any lot and all matters they deem relevant.

Back Taxes* :
N/A
Water Bill* :
N/A
Sewerage Bill* :
N/A
*Lien information has been provided by third parties. We believe this information to be correct but do not warrant its accuracy.