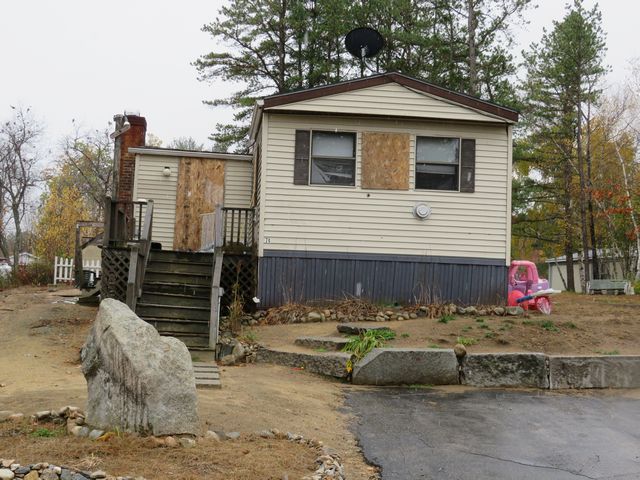 Auction Type: Residential
ID#: 2020-223
Date: 12/15/2020 11:20 AM
Address: 5 Fairview Lane, Ossipee, NH
County: Carroll
Style/Quick Information:
Two-Bedroom Manufactured Home
Living Area:
1,092+/- SF GLA
Full Description: 11:20AM 5 (Lot 74) Fairview Lane, Ossipee, NH. 1986 Torch home w/ 9' x 21' Tipout offers 1,092± SF GLA w/ 2 BR & 2 BA • Tax Map 54 Lot 2-74. Assessed Value: $17,400. 2019 Taxes: $298. We have been retained by Ossipee Mountain Estates Co-op to sell at PUBLIC AUCTION this property pursuant to RSA 205-A:4-a. Home is in poor to fair condition, interested parties are encouraged to conduct a drive-by inspection prior to the auction. Terms: Twenty percent of the sales price, or $1,000, whichever is less, deposit at time of sale by cash, bank check, or certified check. Balance due on delivery of Manufactured Housing Quitclaim Deed within 21 days of sale, time being of the essence. Successful bidders shall be required to sign a Memorandum of Sale of Manufactured Housing. Preview: One half hour prior to sale, if permitted. Other terms may be announced at time of sale. Auctioneers Note: The sale is of the Manufactured Homes ONLY.

Back Taxes* :
N/A
Water Bill* :
N/A
Sewerage Bill* :
N/A
*Lien information has been provided by third parties. We believe this information to be correct but do not warrant its accuracy.