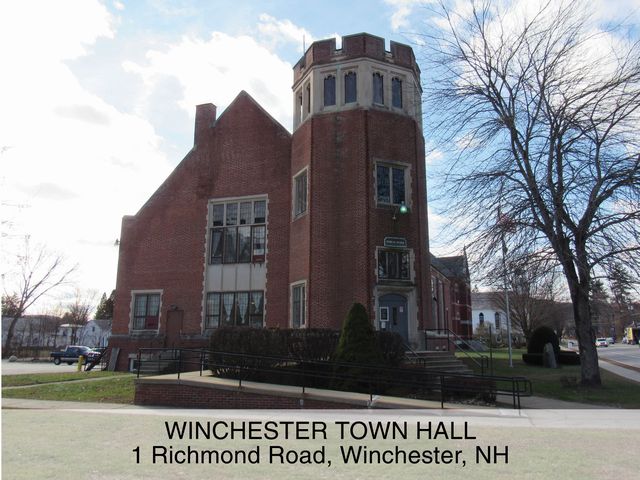 Auction Type: Residential
ID#: 2021-178
Date: 12/04/2021 10:00 AM
Address: 1 Richmond Road, Winchester, NH
County:
Style/Quick Information:
(3) TAX DEEDED PROPERTIES IN WINCHESTER, NH
Living Area:
Bedrooms:
Bathrooms:
Full Description: Sale to be held at: Winchester Town Hall, 1 Richmond Road, Winchester, NH. Registration from 9:00 AM. We have been retained by the Town of Winchester to sell at PUBLIC AUCTION these (3) properties which were acquired by Tax Collector's Deed. These properties have a total assessed value of $178,900, and appeal to investors, builders, and abutters! ****SALE # 1: Tax Map 2, Lot 23, 319 Manning Hill Road * Single family mobile home located on a 1.5± acre lot * 1960 built home with 990± SF GLA, 3BR, 1 BA, detached garage, metal roof and FHA/Oil Heat. * Private water & septic * Assessed value $ 79,400. 2020 taxes $2,284. DEPOSIT: $5,000. ****SALE # 2: Tax Map 28, Lot 6, 19 Elm Street * Vacant lot located very close to downtown * Winchester. 0.28± acre level lot most recently had a 3-family home that has been raised * Public water & sewer. Assessed value $51,600. 2020 taxes $1,485 * DEPOSIT: $2,500. ****SALE # 3: Tax Map 12, Lot 20, 510 Old Westport Road * Vacant lot with burned down, collapsed structure. 4.75± acre lot is heavily wooded and rolling in topography * Private water & septic * Assessed value $47,900. 2020 taxes $1,378 * DEPOSIT: $2,500. TERMS: All deposits by cash, certified check, bank check, or other form of payment acceptable to the Town of Winchester at time of sale, balance due within 45 days. Conveyance by deed without covenants. All properties sold "as is, where is" subject to all outstanding liens, if any. Other terms may be announced at time of sale. Preview: 319 Manning Hill Road is occupied; drive-by only. Sales 2 & 3 - Lots are marked, a drive-by is recommended. 10% BUYER'S PREMIUM DUE AT CLOSING. All information herein is believed but not warranted to be correct. All interested parties are advised to do their own due diligence relative to the buildability/non-buildability of any lot and all matters they deem relevant.
Back Taxes* :
N/A
Water Bill* :
N/A
Sewerage Bill* :
N/A
*Lien information has been provided by third parties. We believe this information to be correct but do not warrant its accuracy.